Dubai, with its awe-inspiring skyline and luxurious lifestyle, has become a sought-after destination for couples looking to tie the knot in style. Offering a blend of modernity and enchanting landscapes, this city is home to some of the most exquisite outdoor wedding venues in Dubai.
In this blog post, we'll explore Dubai's top five outdoor wedding venues and the beautiful couples whose special days were captured in these stunning locations. Which venues remain in the list from our previous blog post from a few years back and what venues added it to the list?
Park Hyatt Dubai
Situated on the banks of Dubai Creek, Park Hyatt Dubai offers a picturesque setting for a romantic outdoor wedding. With lush gardens, serene water features, and stunning views of the marina, this venue exudes elegance and charm. Ami and Chris chose this venue for their wedding, creating an intimate and unforgettable experience for their loved ones. Surrounded by the beauty of nature, they exchanged vows under a canopy of twinkling lights, leaving guests mesmerized by the magical ambiance.
Ami and Chris Wedding
Wedding decoration: My Lovely Wedding
Marwan and Hala along with Reebcca and Aniket also chose Park Hyatt Dubai as the backdrop for their wedding, captivated by its timeless charm. Both couples were able to create personalized and intimate experiences for their loved ones at Park Hyatt Dubai.
The Palm Garden at Park Hyatt Dubai can be customized to suit individual preferences. The magical ambiance created by the twinkling lights and the secluded area adds a touch of enchantment to every celebration held at Park Hyatt Dubai.
Four Seasons Hotel and Resort
Known for its impeccable service and luxurious accommodations, the Four Seasons Hotel and Resort in Dubai is a dreamy location for an outdoor wedding. Noor and Mustafa embraced the opulence of this venue, exchanging vows against the backdrop of breathtaking Arabian Gulf views. The seamless blend of modern sophistication and traditional Arabian charm made their wedding day an extraordinary celebration of love and culture.
Noor and Mustafa Wedding
Wedding planner: JAM Wedding Planner
Melia Desert Palm Per Aquum
Melia Desert Palm is a unique and unforgettable outdoor wedding venue in Dubai, offering an oasis in the midst of the desert. This is a favorite venue as we also had this venue as one of our top 5 wedding venues in our post a few years ago.
Joel and Erin's wedding showcased the venue's tranquility and natural beauty, surrounded by lush green landscapes, swaying palm trees, and a rustic equestrian feel. The whimsical affair, filled with vibrant colors and joyful moments, was enhanced by the venue's distinct rustic and colorful design. Couples can choose between the Museum area and the Olive Garden as beautiful outdoor options in the Melia Desert Palm.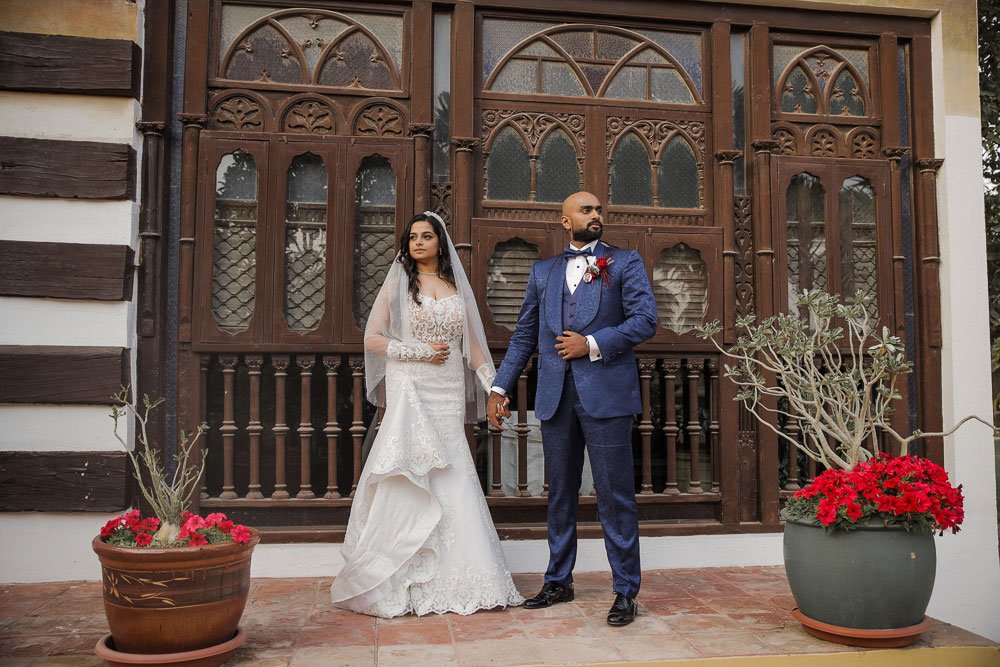 Joel and Erin Wedding
Wedding Planner: Splendid Surprise
Check out Joel and Erin's prewedding shoot here.
Ritz Carlton JBR
Situated in the heart of Dubai's vibrant Jumeirah Beach Residence, the Ritz Carlton JBR stands out as an exquisite beachfront setting for outdoor weddings. Hailey and Piotr, as well as Cagla and Murat, chose this venue to celebrate their love. Against the backdrop of the azure waters of the Arabian Gulf with the iconic Ain Dubai, these couples experienced unforgettable beachside ceremonies and elegant receptions. The Ritz Carlton JBR's impeccable service and attention to detail ensured that every aspect of their weddings was flawlessly executed. Couples are treated to a beach backdrop, a lush green garden, and pathways with the classic architecture of the hotel as a backdrop for their photoshoot.
Murat and Cagla Wedding
Wedding Planner: The Purple Chair
One and Only The Palm
Another favorite venue. One and Only The Palm ranked in our top 5 wedding venue list in our previous post a few years ago.
Nestled on the private peninsula of Palm Jumeirah, One and Only The Palm offers couples a luxurious and intimate outdoor wedding experience. Irina and Neil, along with Holly and Dan, were captivated by the venue's exclusivity and natural beauty. Surrounded by stunning beachfront views and lush gardens, their weddings became celebrations of love in a serene and idyllic setting. With opulent decorations and personalized service, One and Only The Palm provided the perfect backdrop for these couples to begin their journey of lifelong togetherness.
Holly and Dan Wedding
Wedding planner: JAM Wedding
Dubai, with its extravagant charm and breathtaking venues, offers couples an array of choices for their outdoor weddings. Whether it's the romantic setting of Park Hyatt Dubai, the opulence of Four Seasons Hotel and Resort, the serenity of Desert Palm Per Aquum, the beachfront allure of Ritz Carlton JBR, or the exclusive luxury of One and Only The Palm, each venue offers a unique experience that will leave couples and their guests with cherished memories. These top five outdoor wedding venues in Dubai have played host to beautiful weddings, reflecting the diversity and grandeur of this remarkable city.