We had the privilege of telling another stunning wedding story at the Saint Mary's Church, and the following celebration at the Arabian Ranches Golf Club in Dubai, and it was truly an unforgettable experience. It was an absolute pleasure to work with Joseph and Hala, as well as their families. We had the pleasure to photograph and video graph their engagement, as well as Joseph's brother Milad's wedding four years prior (2018), and his sister, Maria's wedding in December 2020. Some would say we were already part of the family, and we sure feel like we're family. It's always special to be a part of a family's joyous occasions, and we feel honored to be entrusted with capturing these memories for them. The wedding was a beautiful celebration of love and commitment between two people, and it was an honor to be a part of it.
Check out this bride's room setup with her bride squad!
Hala's bride squad rocked! The bridesmaids and Hala's mother made sure that Hala would have fun before she said "I do" by setting up her room with balloons and champagne. It was perfect for the photos!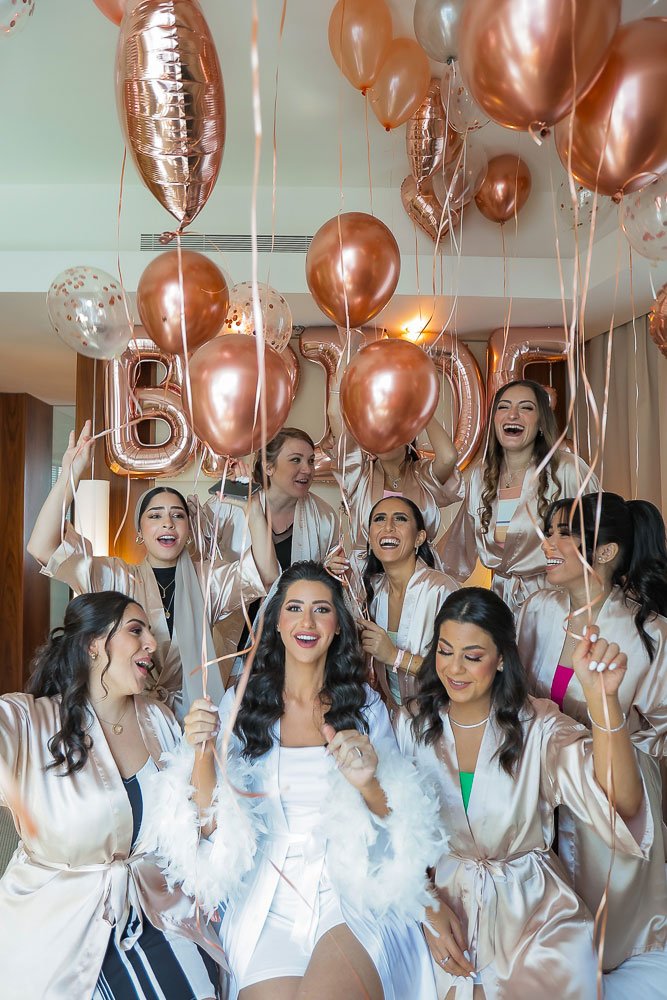 The Ceremony at St.Mary's Church
Joseph and Halas' wedding ceremony was held at the Saint Mary's Catholic Church in Dubai. The ceremony was nothing short of breathtaking with the couple exchanging their vows in the presence of their friends and family. 
After the ceremony, we headed to the Arabian Ranches Golf Club for the reception. The Arabian Ranches Golf Club is a beautiful venue for weddings in Dubai. The Arabian Ranches Golf Club provided the perfect backdrop for the reception, with its picturesque greenery and a serene lake. We were able to capture some truly breathtaking shots of the bride and groom amidst the scenic views, and the result was nothing short of magical.
The Picturesque Arabian Ranches Golf Club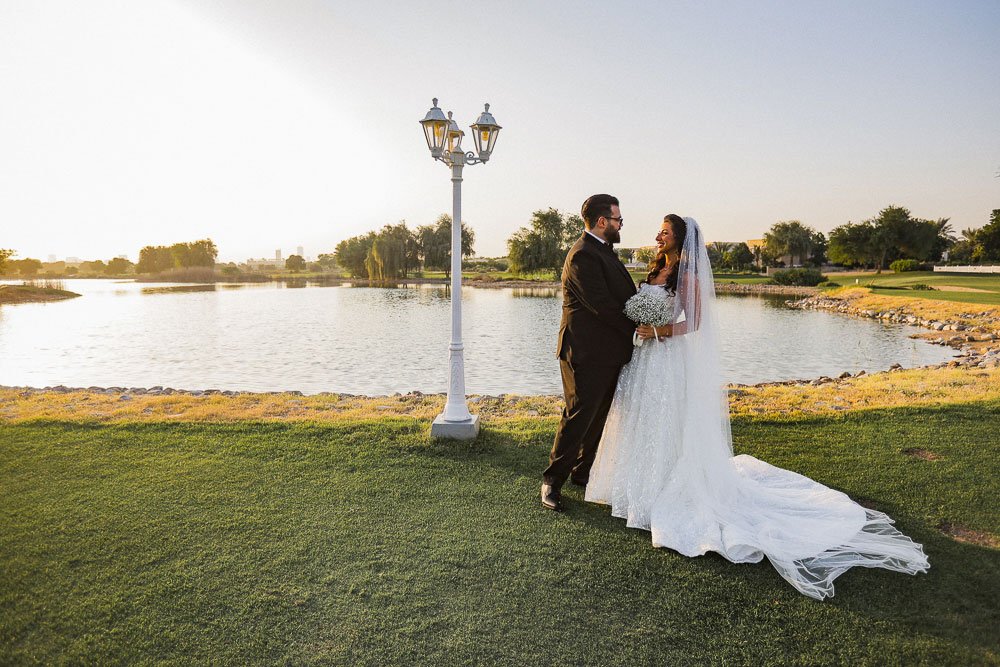 As the couple entered the reception, they were welcomed with an upbeat zaffeh, round of applause and cheers from their guests. As the night wears on, the room comes alive with the endless music and dancing. The atmosphere was one of joy, hope, celebration, and new beginnings with guests laughing, chatting, and swaying to the beats.
Joseph and Hala, may your love for each other grow stronger with each passing day! We are so grateful to have been a part of your wedding day and to have captured the special moments that you will cherish for a lifetime. Thank you for choosing us as your wedding storytellers.